Rose Symbolism
The Symbolic Meaning of the Rose
Here you will find what the color of each rose symbolizes.
The rose flower is well known for its symbolism of romance, love, or infatuation. There are several colors of roses, each with their own meaning. The significance of the color of rose you choose is important if you want to symbolize the right gesture towards the person you are giving them to.
Red Rose Symbolism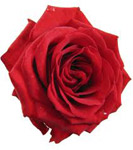 The red rose says "I love you" to the person you are giving them to. They are also welcomed by people in an atmosphere of romance or passion, and they can also tell people you find them beautiful.
White Rose Symbolism

A popular meaning associated with the white rose is " I am worthy of you".
White roses also symbolize purity, innocence, and youthfullness. Consider these meanings when choosing a white rose for someone you care about.
Yellow Rose Symbolism

The yellow rose is symbolic of joy, a new beginning, and friendship. If you want someone to remember you, give them a yellow rose.
Pink Rose Symbolism

The pink rose is a symbol of appreciation, gracefullness, and giving a pink rose is a genuine way to say thank you. The pink rose is a symbol of elegance and grace.
Peach Rose Symbolism

The peach colored rose is a symbol of desire, optimism for the future, anticipation, giving a peach rose tells someone you want to be with them.